My Cameras (Film and Digital)
My mom helped develop my interest in photography, and she averaged two 36-exposure rolls of film per week from age 65 to 75. I hope I am still active enough to take that many photos in my later years! I wasn't able to convert Mom to digital before she died, but she enjoyed seeing instant photos on my first couple of digital cameras.
In high school, I saved my earnings from the grocery store where I worked to purchase a Canon FTb SLR,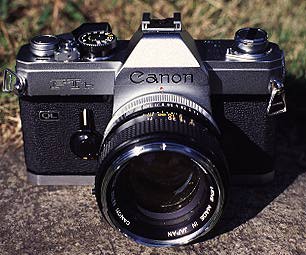 with a 50mm lens. This served me well, even through a dunking in the lake on a canoe trip. I added a Canon AE-1, which accompanied my wife and I to Guam, but its electronics got damp when our car was flooded during a typhoon. The car recovered, and the FTb, but not the electronic-based AE-1. I still own a Canon F-1 film camera that I found used while visiting Japan. I tried its shutter last summer, and it snapped crisply after sitting unused for over fifteen years!
My first digital camera was a Sony Mavica that used two-inch floppy disks, with only about 240×360 pixels of resolution (0.8 megapixels). Next came a workhorse, the Kodak DC260, and then DC290. Then an Olympus C-5050, and eventually my first digital SLR, the Fujifilm Finepix S2. I still use the S2, as well as the newer Fuji S3 and S5. The S5 is built from Nikon's D200 camera, but with a Fujifilm sensor that produces finer portrait color (like the old Fujifilm Velvia films – my opinion here!).
My favorite digital camera research site is DP Review, where I enjoy the camera reviews, and the User Forums (particularly the Fuji SLR forum). I recommend this site as a starting point for buying a new digital cameras, including statistics on the cameras currently most-popular.